CME-75 Truck Mounted Drill
Hollow Stem Auger Drilling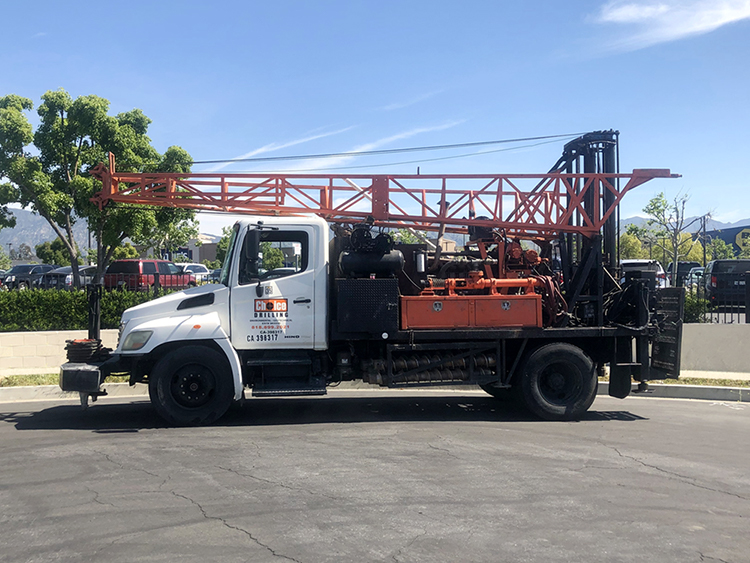 | | |
| --- | --- |
| Non-Operating Length | Towered Length |
| 27.5′ Driller deck up | 30′ Driller deck down |
| Standard Width | Non-Operating Height |
| 8.25′ | 13′ |
| Towered Height | Min. Operating Height |
| 27′ | 27′ |
Engine
Cummins QSB 4.5L (275 cubic inch) 140 horsepower (104 kilowatt) 4-cylinder turbocharged diesel engine with electronic throttle, engine protection shut down, and cold weather starting aid. U.S. EPA tier-4 final emissions certified.
Hydraulic feed system
Retract force

30,000 pounds (13,608 kg)

Pulldown force
Retract rate
Rapid Retract rate

78 feet (24 m) per minute

Feed Rate

48 feet (14 m) per minute

Stroke
Rotary drive
Clutch, heavy duty
Transmission

5 speed forward, 1 speed reverse

Standard Rotary Box

10,446 foot pounds (14,162 Nm) max spindle torque
746 rpm max spindle speed

High Torque Rotary Box

13,229 foot pounds (17,936 Nm) max spindle torque
589 rpm max spindle speed

High Speed Rotary Box

8,357 foot pounds (11,330 Nm) max spindle torque
933 rpm max spindle speed

Hollow spindle

Standard: 2-3/4 inch I.D. (7 cm)
Optional: 3-3/4 inch I.D. (9.5 cm)
Cummins diesel power
The CME-75 is powered by a Cummins QSB 4.5 turbo charged diesel engine meeting tier-4 final emissions.
Feed system
Hydraulic feed and retract system provides 30,000 pounds (13,607 kg) of retract force and 20,000 pounds (9,071 kg) of down pressure. The 72 inch (183 cm) stroke, vertical drive system has twin hydraulic cylinders mounted in line with the drill spindle so that pulldown and retract forces are applied directly to the drilling tools. For exceptional drilling efficiency the feed system has two separate controls. One gives you manual control of the feed and retract and the other features detent feed and fast retract positions. Retract rates of up to 84 feet (25 m) per minute let you add or remove drilling tools quickly. Detent feed controls let you dial in a specific feed rate and pressure. This system is extremely advantageous in core drilling and other operations that require precise control of feed. And since the two controls are isolated, you can use the manual control without changing the settings for the detent feed control.
Control logic — the key to operator productivity
All drilling and set-up controls are logically arranged on the control panel located at the drillers' station. And the location of all primary controls is the same on all CME drill models so operators can move from one machine to another with confidence. The most commonly used functions, such as the feed, hydraulic hoist, and sliding base levers are staggered for easier identification and operation. Also a lock out position for the clutch lever to prevent accidental engagement.
Rugged mechanical rotary drive provides 10,445 foot pounds (14,160 Nm) of torque, plus high rotation speed when you need it
You get the torque you need for auger drilling, as well as rotation speeds over 740 rpm for rotary or core drilling applications. Other optional rotation speed and torque combinations are also available, including a high-torque rotary drive that gives you 13,225 foot pounds (17,930 Nm) of torque. With five forward gears and one reverse, there's a rotation speed and torque combination available for just about any situation. The transmission is connected to the drill engine through a heavy-duty 13 inch (33 cm) clutch. And since the transmission does not travel vertically with the spindle, you won't find yourself unable to change gears when you're at the top of a feed stroke.
Patented Spindle Brake stops rotation in an instant
Our emergency spindle brake can stop rotation in less than a revolution. This system is activated by two conveniently located push button switches as well as strategically located multi-directional wobble switches.