LAR (Limited Access Rig)
Rigs for Your Challenging Locations – CME 75 Limited Access Rig (LAR)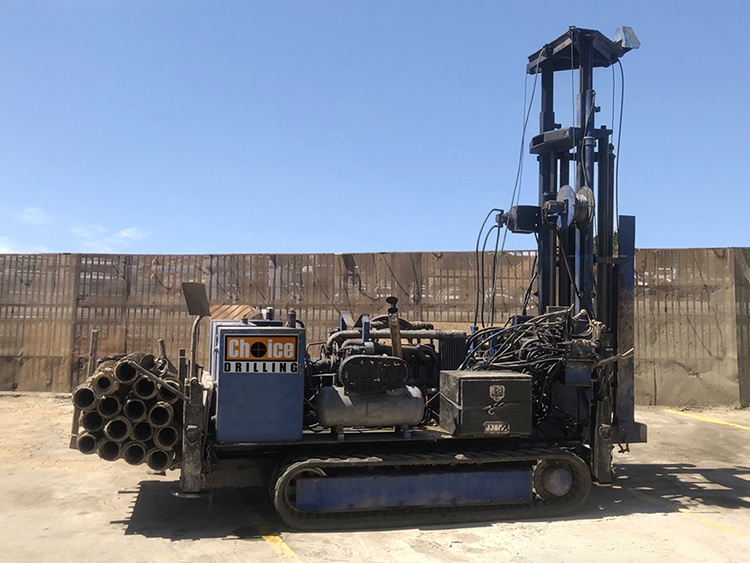 | | |
| --- | --- |
| Non-Operating Length | Towered Length |
| 16′ | 19′ |
| Standard Width | Non-Operating Height |
| 6.25′ | 7.5′ |
| Towered Height | Min. Operating Height |
| 18′ Tallest | 14'5" Lowest Adj Ht |
| Weight | |
| ~17,500 lbs. | |
Features
Easy to transport!
Minimum working height: 14.5 ft.
Rubber track mounted for damage-free driving on concrete and other surfaces
Small footprint and ability to turn in place to easily reach tight spots
High torque configuration with the same power as a truck mounted CME 75 motor
Drilling up to 140 ft.
Weight: Approx 17,500 pounds
Deutz intercooled turbo diesel engine
Designed to climb a 50% grade to tackle even the roughest terrain
Cost-effective
Challenging locations are no longer a challenge! No matter where drilling needs to happen for your environmental or geotechnical project, we've got a compact, powerful, nimble rig and expert operators to get your job done right and on-time. These drill rigs can be set almost anywhere you need data:
indoors (exhaust ducting provided)
sidewalks and medians
a residential backyard or bluff
maneuvered into any tight quarters or low overhead situation
CME 75 Limited Access Rig (LAR) – Your Powerful, Low-Clearance Drill Rigs
The only drill rigs of its kind, the CME 75 LAR rubber-track drill rig has great torque and power but with a working height of just 14.5 feet. This is the only rig in existence of this size, with this power. Capable of both mud rotary and hollow stem auger drilling, the CME75 LAR features a 140 pound auto-hammer for extremely consistent and accurate Standard Penetration Test results, meeting all ASTM-D-1586 requirements; perfect for geotechnical and environmental projects. This low clearance, compact, track-mounted rig will drill where truck-mounted rigs won't fit: under canopies and low bridges, below low-hanging power lines, on bluffs and in rough terrain.